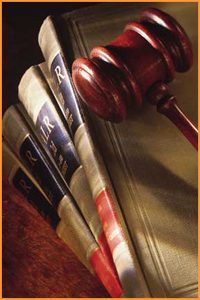 Criminal Law
Criminal Law is the name given to the branch of law that governs an individual's relationship to the state. It includes the definitions of criminal offenses, which are usually established by Congress or state legislatures. The term "criminal law" also encompasses the rights of an accused and the criminal process, including arrest, arraignment, grand juries, pleas, discovery, pretrial hearings, trials, jury selection, evidence, motions, and posttrial remedies. The main purpose of the criminal law is to set forth the punishment for criminal offenses. In order to prove any crime, no matter how serious, the prosecutor must prove that the accused committed a guilty act with a guilty mind beyond a reasonable doubt.
Family Law
Family law is the name given to the branch of civil law that a family lawyer or a family attorney covers including the legal relationships among family members, including husbands, wives, parents, children, and domestic partners. A family law attorney or a family law lawyer specializes in the family law relationships which encompass adoption, child custody, visitation rights, domestic violence, divorce, juvenile dependency and delinquency, marital property rights, support obligations, and paternity. Because these personal relationships are governed by state law, what constitutes "family law" may vary from state to state.
Personal Injury
Personal injury is the name given to the branch of tort law that covers any wrong or damage done to another in his person, property, rights, or reputation. A personal injury can happen at work, in a traffic accident, because of a faulty product or a faulty repair, because of a mistake during medical treatment, or because you slipped and fell on a wet floor or pavement. The personal injury can be physical or psychological but, to be considered actionable, it must occur due to the negligence or unreasonably unsafe actions of your employer, a manufacturer, your doctor, your landlord, or some other person or organization who owes you a duty of ordinary care. Examples of personal injury law causes of action include professional malpractice, wrongful birth, wrongful death, liable, slander, trespass, and nuisance. If you think you may have a case for a personal injury settlement, please give us a call.
Wills and Probate
In a will, a person or "testator" expresses, in writing, what he (or she) wants done with his property after he dies. Most states require wills to be signed by the testator and witnessed by two people. "Probate" is a court proceeding in which final debts are settled and legal title to property is formally passed from the deceased person or "decedent" to his heirs. Probate proceedings take place in the probate court or surrogate court in the county of the decedent's legal residence at the time of his death. If a person dies "intestate," meaning "without a will," state law determines how to distribute his property.
Immigration
Immigration law is the name given to the branch of law that covers U.S. citizenship, loss of citizenship, and the admission and removal of aliens. Legal immigration involves immigrants, i.e., persons seeking a permanent residence card or "green card," and non-immigrants, persons seeking temporary entry to the U.S. under a non-immigrant visa category. Immigration also encompasses asylum, naturalization, denaturalization, deportation, as well as immigration crimes, including illegal immigration, or aliens who enter the U.S. and obtain work illegally. Please read on to find an immigration attorney, immigration lawyer, or to learn more about the new immigration law.