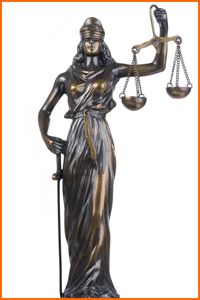 The formula for success is simple —provide my clients with straightforward, compassionate, and competent representation.
In 1999, the doors of the Law Office of Tiffany S. Craig, P.A., opened in Plant City, Florida and has been successfully practicing ever since. I am licensed to practice in State and Federal Courts in Florida.
I continue to handle a wide variety of cases ranging from, but not limited to:
Criminal law (misdemeanors, felony, violations of probation and federal)
Family law (divorce, child support, adoptions and custody)
Personal injury
Wills and Probate
Immigration
Guardianship
Contracts
I have ten years plus of trial experience and do not hesitate to deal aggressively with the opposition if the situation requires it. While I am empathetic toward my clients, my goal is to counsel and zealously represent them through some of the most difficult times of their lives.
I take pride in handling my clients' cases with an effective balance of aggressiveness and economic efficiency. I have developed a well regarded reputation for thorough and resourceful litigation.
I take into consideration the expenses associated with a proposed plan of action and weigh it against the potential gain from implementing the plan. It is my belief that there are those cases which can be handled expeditiously, by way of early settlement, and the firm seeks to identify and dispose of such matters quickly so as to avoid unnecessarily protracted and costly litigation.
I treat my clients' matters as if they were my own, exercising the highest degree of judgment, integrity and discretion. I exist solely to serve my clients and obtain the desired results.
Whether your case requires vigorous negotiation, mediation, or assertive representation at trial, I have the legal knowledge and courtroom experience to protect you and your interests.
Mission Statement: To provide quality legal representation to my clients in a responsible and ethical manner with a goal of achieving positive results effectively and efficiently.